Tree Surgery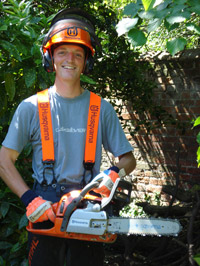 The term 'Tree Surgery' covers a broad range of techniques for the management of trees.
Trees are very often subject to stress that may lead to problems such as instability, damaged branches, risk of disease, or other issues which can be easily rectified if correct management and tecniques are sought. Regular inspection will detect the early onset of problems that may require only simple pruning or, if trouble has developed, more extensive work.
The skilled assessment and pruning of specimens trees for reasons of health, aesthetics and safety requires knowledge of the physiology and characteristics of each species within the content of each tree's particular environment and location.
We will carefully consider all aspects of your requirements, and the requirements of the tree, and base our work upon these factors. Whether you feel certain that you need tree surgery work, or simply require a professional opinion, we are happy to help.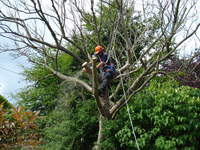 We are experienced and proficient in all elements of tree surgery work, and have all the relevant NPTC (National Proficiency Test Council) qualifications for chainsaw operation and work with ropes at a height in trees achieved through Kingston Maurwood College, Dorset. If we feel that, for whatever reason, we can't help, we will always seek to put you in touch with a person who can.